Malta is a south European city in the mediterranean sea. It is a country tha t have seen its fair share of wars due to its location as a strategic navel base. Among the powers that have occupied the Island country include; Phoenicians, Romans, Moorish, Normans, Aragonese, Habsburg Spain, Knights of St. John, French and the British. This occupation left Malta with a lot of history to share with its visitors. Its capital city, Valletta is particularly loved by tourists due to its monuments and architectural marvels.
read more
Street foods definitely complete an adventure trip. Here we give you the top destinations for such.
read more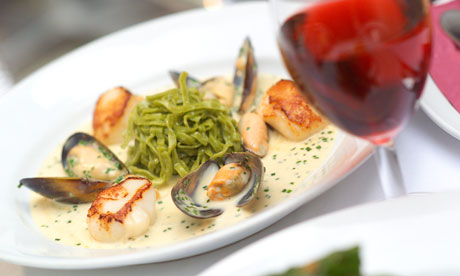 These smaller cities offer quite a bit to the traveller in their own right. Whether you're visiting for the crazy rugby scene or attending the Cheltenham Jazz Festival in May, you certainly won't run out of things to do.
Nor things to eat. There is a vibrant foodie scene in both of these cities that offers delicious, international cuisine at highly affordable prices.
In fact, Tony Naylor just wrote an article for the guardian.co.uk - Top 10 best budget restaurants in Cheltenham and Gloucester.
Making the list are Vanilla of Cheltenham, a "smart basement restaurant," and Blue Thai Kitchen of Gloucester - "cheap, cheerful and, for the money, pretty good."
A trip to Rome is a trip of a lifetime. In between visiting the great museums, posing in front of the fountains for pictures and admiring the many historical and cultural sites, you'll be doing one of my favorite activities: eating. And boy, is it good.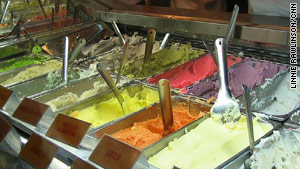 It also can be expensive. Especially in the more touristy areas, the food you're served doesn't do justice to the true flavors of Italy, particularly if you're given an English menu and bad service.
For tips on the best places to eat in Rome, check out Gisella Deputato of CNN's article, An Insider's Tasty Tips for Rome. She has a lot of great info and ideas that will make you hungry and itching to start your trip to this incredible city (let us help!).
I really wanted to share the blog by Janice Waugh - "SoloTraveler". She writes as a woman in her golden years who in 2009 decided to experience the world again. Her blog is full of witty insight plus some great tips on places to visit, food to eat, sights to see.
What I like best about her writing is her very positive, very contagious attitude that anything and everything is within your reach at any age.
Below is an excerpt from her latest post, though I recommend you check into her website regularly to see what's she's up to. Right now her adventures have taken her to London.
"... The latter is what I often feel when traveling solo. On the second day of my trip to London, navigating the Underground alone, I suddenly felt very capable. My confidence soared. For a moment (just a moment as I admit that it is a small accomplishment), I felt exhilarated.

When the announcement came on to "Mind the Gap" it occurred to me that there isn't one. This feeling of soaring confidence is ageless. It is there to achieve for those in their twenties and those in their nineties. It helps us age brilliantly – at any age.

I wish it for you."
Like most things in life, traveling involves some risk.
For the most part your risk is generally very minimal and there are measures you can take to all but eliminate it, along with your stress while you fly.
Here are the steps to take on your next trip.
Valuables
Don't bring anything super valuable or difficult to replace, like a family heirloom. If for whatever reason the nature of your travel requires you to bring expensive jewelry, clothing or equipment, consider covering their replacement value under a policy in addition to the automatic, very limited coverage provided by the airlines.
Buy this protection through either your own insurance or at the ticket counter. Anything you really care about - wear.
Packing
Before packing your bags, check all the zippers and locks for signs of wear and tear from previous trips. Replace or fix anything that is broken.
Don't overpack your bag. Even if the bag is brand new, overstuffed luggage is liable to pop open while being transported (re: manhandled) from the terminal to the plane.
Keep your stuff organized and all in one place. If you know exactly where everything should be, you'll notice much faster if something is missing.
Remember, just because you're using a lock doesn't mean people can't get into your luggage. A pen can get access to your stuff without you ever knowing about it. Make an inventory of the items packed in each bag.
Identification
Fill out a luggage tag (they give them out at check-in) and the slip-in pocket cards with your contact information. Keep this information up to date.
Keep a copy of your contact info in all your stuff - backpack, tote bag, purse, etc. If you're bringing a camera, make your first shot that of your information. In the event it's lost and then found by a good Samaritan it'll be easier to return.
If you're traveling abroad, make a photocopy of your passport and store it separately from the actual version. Make sure your passport is signed and the emergency contact information is filled out.
Airport
Though your chances of encountering terrorist-related danger is very low, it's important to be aware of these and other potential risks. The only thing worse than having something taken out of your bag is having something put into it without your knowledge.
In many countries if you're found with drugs or other illegal paraphernalia on your person, you can face serious repercussions, in which case your national government might have little power to help you.
The U.S. Department of State recommends that you "schedule direct flights if possible, and avoid stops in high-risk airports or areas." Be wary of strangers. Do not accept packages from anyone and keep an eye out for abandoned packages or luggage, or any other suspicious items or activity. Report them to the airport authorities.
Don't wear anything too flashy. "Try to minimalize the time spent in the public area of the airport, which is a less protected area. Move quickly from the check-in counter to the secured areas."
If you have to hang out at the airport for a while, keep all of your stuff close to you. If you think you might fall asleep, sit on your stuff or tie it to you.
Carry-On
The three things you should always bring on an airplane are your ID, credit card(s) and prescription medications (if needed). Remember you'll need your credit card if you want to purchase any food, drinks or additional in-flight entertainment. Also keep with you a phone or list of important numbers.
Once you're on the plane, bury your wallet and cash deep in your carry-on; you won't need it and it'll be harder to get to.
Pack a smaller bag inside of your carry-on. In the event you board the plane late and are forced to check your carry-on bag you can remove things of value and put them into the small bag to keep with you during the flight.
Even better, make sure your carry-on can fit under the seat in front of you. It might be less comfortable than storing it overhead but you will never be forced to gate check it.
Fly on airlines that have and enforce restrictive cabin baggage policies. Try to keep your stuff close to you instead of storing it 10 seats down the aisle. If you go to the bathroom mid flight, don't leave your wallet, iPod and other valuables unattended and untethered in your seat.
Remember: you are less of a risk from staff stealing from you than fellow passengers.The general rule here is "start out by trusting everyone, but don't make it easy for anyone."
Public was awarded the 2011 Michelin Star for excellence. This Australian-Asian fusion restaurant manages to epitomize the NoLita dining experience while still evoking and innovating entirely creative, exotic and delicious food.
Public is characterized by simple, industrial elegance. Sit outside on the elevated patio for some prime NYC people-watching. Perfect for a date or small group of friends. Service is wonderful and the crowd diverse. Even the bathrooms are lovely, the walls lined with complimentary bars of soap individually wrapped in Public wrapping.
The dinner menu by Chef Brad Farmerie seeks to "excite and challenge patrons by introducing new flavors and ingredients to their culinary vocabulary." Just about all of the eclectic, global cuisine is absolutely delicious. In particular, try the Oxtail Snail Ravioli, the Pork Confit Belly, or for the more adventurous, the Grilled Kangaroo on coriander falafel. Finish your meal and cool your palate with a refreshing sorbet.
Don't go expecting huge, generous portions but rather palate-satisfying, rich dishes, in appropriate portions.
Full Bar. Pair your food with a Guava and Red Chili Margarita, refreshing with chili pepper kick, or the Pear and Lemongrass Fizz.
PDF of Full Drink and Wine List
The Monday Room features 60 varieties of wine from Australia and New Zealand plus small plates to compliment them. Brunch at a $22 fixed price that includes cocktail, coffee/tea and meal. Try the coconut pancakes. Saturday & Sunday, 11am-3:30pm
Reservations Recommended
Hours: Monday - Thursday 6pm-11pm; Friday & Saturday 6pm-12am; Sunday 6pm-10:30pm . Bar open late, 1am or 2am.
Address: 210 Elizabeth Street between Spring St. & Prince St.
Tel: (212) 343-7011
Alex Vallis, Senior Digital Editor of Food & Wine Magazine, posted an article in the "Mouthing Off" column of the blog: 5 Signs You've Picked a Bad Restaurant is intended to prep diners of a slightly higher budget for choosing the right spot as the Fall high season for restaurant openings returns.
The list applies more specifically to upscale eateries but is practical enough for all diners to learn a thing or two. After all, if you're going to splurge on a nice meal, you certainly want to get your money's worth.
5. You've been ushered in off the street.
"It's unlikely that one restaurant on a touristy strip will be any different from the others just because an animated host told you how great it is. A similar phenomenon occurs with online deals: Ryan Sutton, a Bloomberg critic and the blogger behind The Bad Deal, compared buying these deals to ordering products from infomercials. If someone who you don't know, whose opinions you aren't familiar with, and who has a 100-percent bias is trying to convince you to eat at a particular restaurant, you might want to do a little more research before committing to a meal."
Get the Travel Tips
Get The Savvy Traveler Newsletter
Things we blog about
Places we've blogged about