Business, leisure luxury hotel brand earns more Forbes 5-Star Ratings in a single year than any other hotel brand.
2017 is a banner year for Four Seasons Hotels and Resorts. It marks the second consecutive year the hotel brand, loved by fans of luxury travel, has topped Forbes Travel Guide ratings with a record number of Five-Star Properties. How many have you stayed at?
Forbes Travel Guide has awarded a Five-Star rating – its highest honor – to 30 Four Seasons properties worldwide. The recognition marks the largest number of Five-Star ratings awarded to a hotel brand in a single year in the list's nearly 60-year history.
Star ratings are awarded by a team of professional inspectors, who anonymously evaluate properties against up to 800 rigorous and objective standards. The guides' goal is to provide consumers like you the insight to make better-informed business and leisure travel decisions.
In the words of Forbes Travel Guide, its inspectors "travel the world to assess hotels, restaurants and spas against up to 800 objective standards." Star ratings ultimately emphasize quality of service. Five-Star properties are defined as "outstanding, often iconic properties with virtually flawless service and amazing facilities."
Forbes Travel Guide rates properties in 42 countries throughout the Americas, Europe and the Asia-Pacific region, with plans to add the Middle East and Africa for 2018.
4 Four Seasons properties earned their first Five-Star designation this year, including Four Seasons Resort Bali at Jimbaran Bay (pictured top of page), Four Seasons Resort Bali at Sayan (pictured above), Four Seasons Hotel Gresham Palace Budapest (pictured below) and Grand-Hotel du Cap-Ferrat, A Four Seasons Hotel (pictured second from top).
The 30 Four Seasons properties that earned Five Stars in 2017 are:
Four Seasons Hotel Atlanta
Four Seasons Resort Bali at Jimbaran Bay
Four Seasons Resort Bali at Sayan
Four Seasons Hotel Boston
Four Seasons Hotel Chicago
Four Seasons Resort Costa Rica at Peninsula Papagayo
Four Seasons Hotel des Bergues Geneva
Four Seasons Hotel Firenze
Four Seasons Hotel George V, Paris
Four Seasons Hotel Gresham Palace Budapest
Four Seasons Hotel Guangzhou
Four Seasons Hotel Hangzhou at West Lake
Four Seasons Hotel Hong Kong
Four Seasons Resort Hualalai
Four Seasons Resort and Residences Jackson Hole
Four Seasons Hotel Los Angeles at Beverly Hills
Four Seasons Hotel London at Park Lane
Four Seasons Hotel Macao, Cotai Strip
Four Seasons Resort Maui at Wailea
Four Seasons Hotel New York
Four Seasons Resort Palm Beach
Four Seasons Hotel Pudong, Shanghai
Four Seasons Resort Punta Mita, Mexico
Four Seasons Hotel San Francisco
Four Seasons Hotel Seattle
Four Seasons Hotel Toronto
Four Seasons Hotel Vancouver
Four Seasons Hotel Washington, DC
Four Seasons Resort and Residences Whistler
Grand-Hôtel du Cap-Ferrat, A Four Seasons Hotel
Forbes Travel Guide formally bestows the ratings at a Five-Star Awards Ceremony and Banquet in New York City on March 1, 2017.
Start your Trip!
Copyright BestTrip.TV/Influence Entertainment Group Inc or Rights Holder. All rights reserved. You are welcome to share this material from this page, but it may not be published, broadcast, rewritten or redistributed.
Go to any five star restaurant and you will find some kind of Italian dish on the menu. After ruling the world for more than 700 years, the Roman Empire imported all the world's culinary exploits and enhanced them further. Today, no restaurant will get a five star tag without a specialty in an Italian cuisine. Below are the top Italian dishes that you must try.
read more
See how it is to take a vacation at a humble town in Salerno.
read more
A Typical Beach in Sardinia
Sardinia may not possess countless islands similar to that of Indonesia, but this Italian island does offer a great selection of coasts and beaches that would surely keep you coming back for more.
Read on to learn about three of the best beaches in Sardinia.
1. Chia
Definitely one of the most spectacular beaches in Sardinia, Chia constantly draws travelers to experience its powdery white sands and dunes, including the Phoenician ruins nearby. Visitors generally reserve an accommodation close to this beach, and most of the time, day trippers don't bring their own food when visiting the beach as there is already a restaurant built in close proximity.
2. Costa Smeralda
Meanwhile, affluent travelers could enjoy the seeming exclusivity offered by Costa Smeralda, which is not just a short strip of beach but is included in an entire shoreline. Hence, you won't have to worry about your co-beach bums crowding the entire beach.
3. La Maddalena
Lastly, you could choose to sail off to the northern part of Sardinia, and visit the La Maddalena Island, wherein a good number of pretty, white-sand beaches are waiting for you. Aside from this, you could go on a little adventure, and discover more beaches, coves and inlets with amazingly turquoise waters while in the island.
On the whole, Sardinia is, without a doubt, a magnificent island that is an excellent haven of beach lovers.
So start planning your next trip to the beach now!
A trip to Rome is a trip of a lifetime. In between visiting the great museums, posing in front of the fountains for pictures and admiring the many historical and cultural sites, you'll be doing one of my favorite activities: eating. And boy, is it good.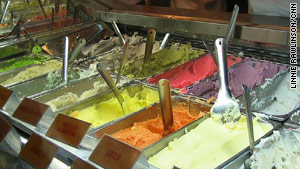 It also can be expensive. Especially in the more touristy areas, the food you're served doesn't do justice to the true flavors of Italy, particularly if you're given an English menu and bad service.
For tips on the best places to eat in Rome, check out Gisella Deputato of CNN's article, An Insider's Tasty Tips for Rome. She has a lot of great info and ideas that will make you hungry and itching to start your trip to this incredible city (let us help!).
Get the Travel Tips
Get The Savvy Traveler Newsletter
Things we blog about
Places we've blogged about